NONE – IT
Architect: Archispritz
Typology: Residential
With the renovation, the large living area, initially divided into several rooms, has become a large open space that houses the living room, dining room and kitchen; moreover, thanks to the installation of large sliding windows, natural light has become the protagonist of the rooms. The sleeping area, on the other hand, has essentially kept the same layout.
Casa Classy was born from the renovation of an apartment of about 120 square meters located in a 1960s building in None, in the province of Turin. The Archispritz studio – Arch. Annalisa Barbera Fortuna and Arch. Patrizia Vaccaro – took care of the intervention, as well as the interior design study. Casa Classy, as its name reminds us, is an elegant and refined residence, with eclectic references, which falls within the style defined as "contemporary classic".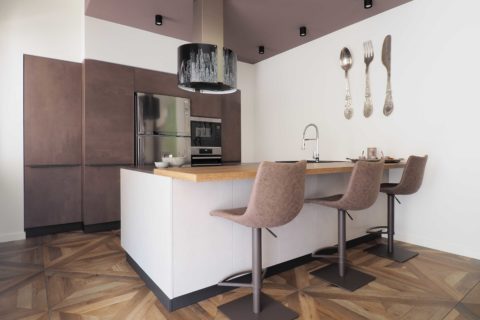 The bedroom leads directly to the master bathroom, characterized by black & white concrete tiles with geometric designs and rectangular diamond tiles typical of the 1960s. Finally, there is the elegant service bathroom, with a freestanding bathtub positioned under the window. Here the wood-effect floor helps to create a strong contrast with the white Carrara marble-effect porcelain stoneware used as a wall covering.
For the taps, Diametro35 series by Ritmonio was chosen, a style icon between past and present, the result of a mix of classic and contemporary inspirations. A touch of character that defines the atmosphere of the bathroom, giving it the right personality, in line with the mood of the entire home.