GENOVA – ITA
Architect: Arch. Andrea Orioli
Typology: Residential
Although in the same environment, the living area is separate and easily identifiable thanks to the change of false ceiling and lighting, while the position of the sofa, the colors and the use of emperador marble recall the carpet, connecting the spaces. The piece of furniture that frames the windows, also customised, amplifies, with two horizontal wooden lines, the blue horizon of the sea that can be admired from the two sliding windows.
In the living room, the colors of the antique furniture and the mirror have been taken up in the equipped partition wall. The shape of the containing boiserie echoes the heating elements, which become the frame of the dining area in connection with the materials and finishes of the table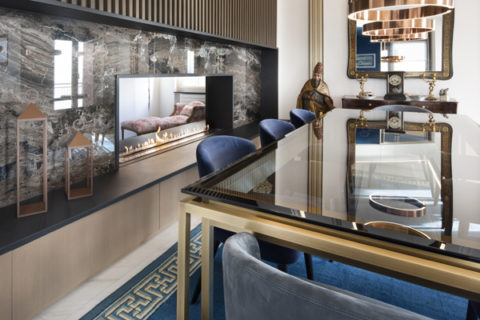 The kitchen, open to the living room and framed by a sample lacquered glass to match the colors of the table, with its blue color contrasts the light tones of the room.
From the wood of the island to the countertops with integrated sink, again in emperador marble, here treated in a matt finish, everything is connected to the living area, while the more technical part, in a glossy white, emerges from the dark walls.
The Diametro35 series is among the Ritmonio's products with water saving features, characterized by the ECO water flow, less than 9 l/min, and it is designed to encourage to use the environmental resources responsibly.
Also for the bathrooms, the elegance of the finishes was used as a distinctive and common feature of the design style of the entire house. "Also the taps show the attention to every detail and meet the criteria of excellence desired by the owner – continues Arch. Orioli – therefore the choice fell on the Ritmonio Diametro35 series, able to harmonize perfectly with the context thanks to a versatile and exclusive design ".