BOLZANO – IT
Architect: Studio Settari
Typology : Hotel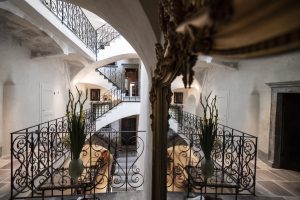 Composed of sixteen finely furnished city suites, the Goldenstern Townhouse is named after the former owners, who, through the style and unique character of this accommodation, managed to tell their personal story, leaving their mark.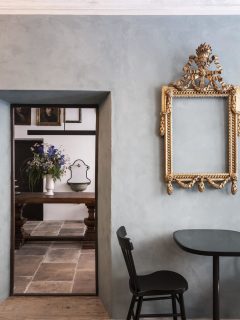 Cross vaults and frescoes of the Giotto school, in fact, are part of the heritage of this building, like the very precious one from the 16th century which is located in the lobby; again in this area, the large convivial table is an ancient refectory table.
Obtained inside an ancient building in the historic center of Bolzano, the structure was previously intended for private homes; now, the modern design blends with the ancient stucco ceilings and historical frescoes, which tell a story of over 800 years, subject to a careful restoration of preservation.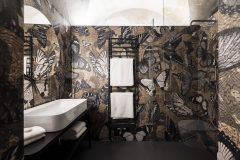 Even the furnishings, custom designed, go with the irregularities of the walls. A few simple elements have been chosen, with particular attention to vintage unique pieces. Thus, for example, in the bathroom of the Baptista apartment, the walls have been covered in burnished iron and detached from the historic wall.
The transformation into a hotel structure freed the spaces from the various divisions and interpreted the new environments as "boxes", to leave the perception of the unchanged original volume.
A great attention was paid to the choice of finishes and materials: action was taken where it was possible on existing wooden floors to restore their conceptual integrity; where it was not possible, solid oak floors were laid.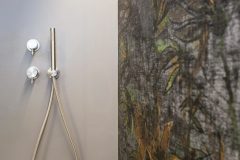 The bathrooms were built in full respect of the spirit of the building with concrete and eco-leather coverings, a reinterpretation of a concrete surface, accompanied by wallpapers.
The bathroom furnishings, inspired by ancient sinks, are embellished with Diametro35 Inox by Ritmonio, in brushed stainless steel.