Architect: AGi architects
Typology : Residentials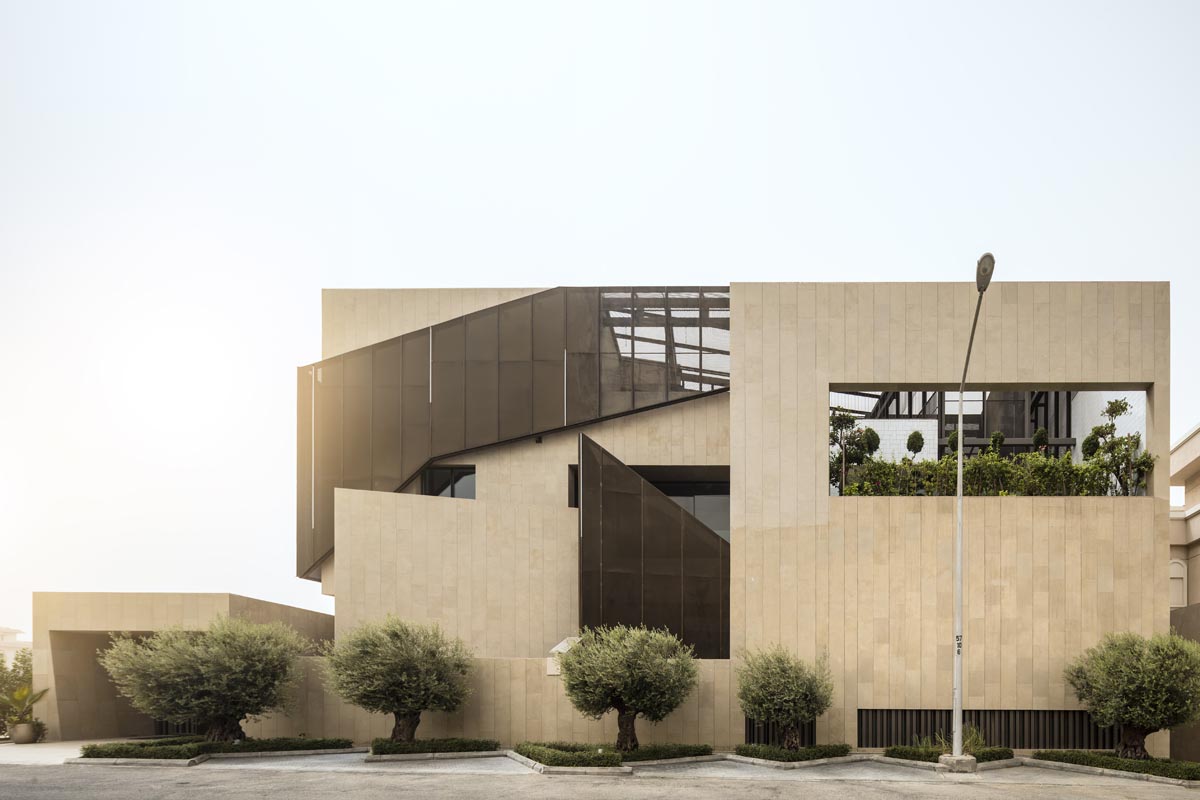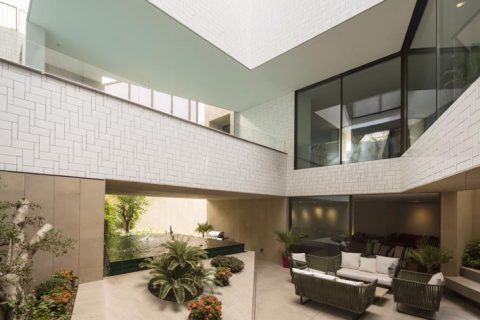 Continuous innovation, attention to the social and environmental aspects in the interventions, research.
For the Three Gardens House project, a residential building located in Al Funaitees (Kuwait), the architectural studio had to face a double request: to create an outdoor space to be used 365 days a year and, at the same time, a subdivision of the environments and the levels able to fully embrace the needs for usability and privacy expressed by customers.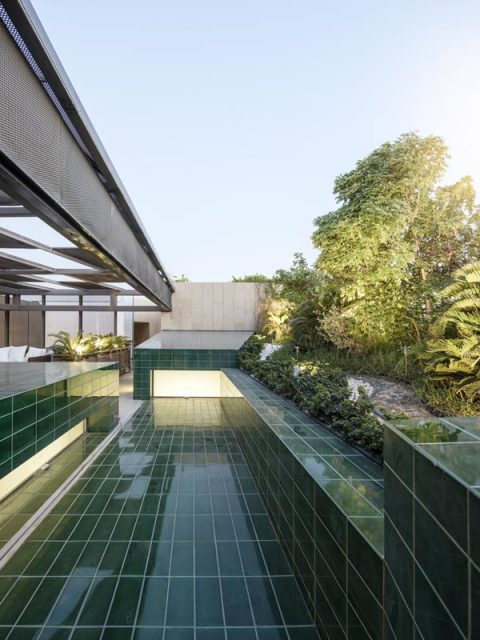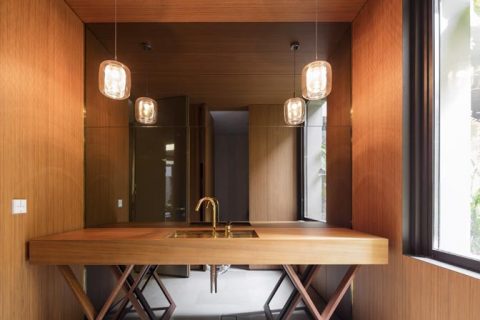 For the first, taking into account the complex climatic situation of Kuwait, it was necessary to develop a particular strategy, dividing the exterior into different levels, which take into account both the seasonality and the different activities to be carried out.
As a result, three gardens have been designed. The first is a Wet Garden on the ground floor, equipped with swimming pool and fountains and surrounded by the main "social spaces" of the house; the summer garden is located in the coldest layer of the complex, four meters below street level.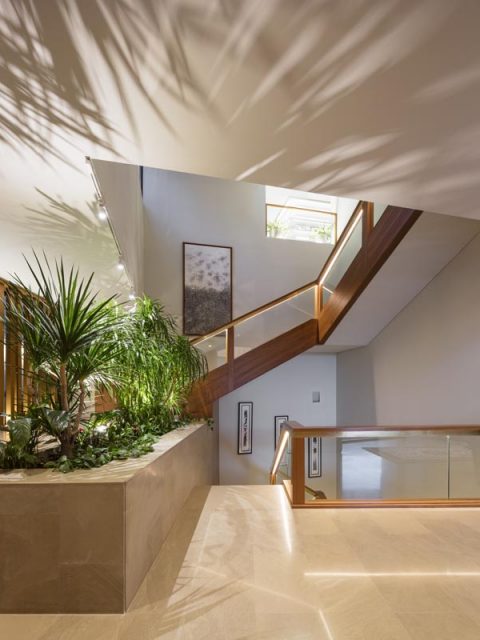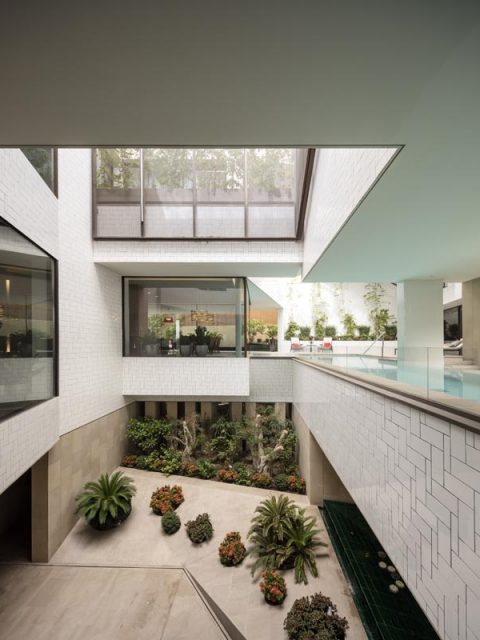 Protected by the thermal mass of the earth and by the shadows made by the building, it includes a large body of water designed to catalyze the evapotranspiration that – with convection – refreshes the air that rises towards the upper part of the house. The third garden is located on the roof, an ideal place to spend winter days and warm summer evenings. The perforated cover in anodized aluminum filters the sunlight, acting as a shelter for the vegetation.
The three gardens are connected by external stairs and, starting from the gaps generated around them, the rest of the house was developed. The movement inside the building is conceived in a fluid way, with multiple paths and the possibility of reaching the rooms in a more or less direct way: in this way the public spaces are visually connected to each other, while the rooms dedicated to the family enjoy greater privacy. The exterior, completely covered in stone, contrasts with the transparency of the walls facing the inner courtyard, covered with white ceramic tiles, which reflect light and help illuminate the rooms in a natural way.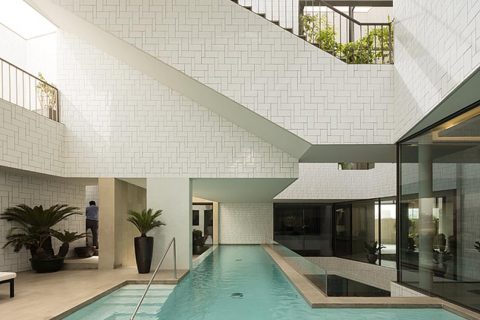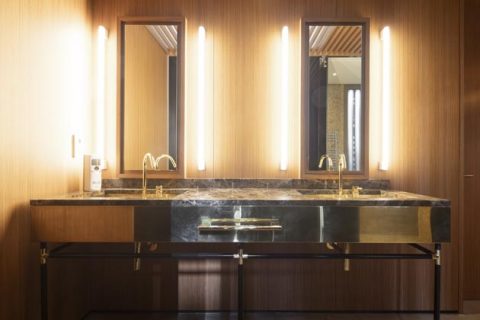 Diametro 35, iconic product of Ritmonio, has been chosen to enhance the sophisticated elegance of the bathrooms, in line with the mood that characterizes the interiors of the house. The gold finish fits perfectly with the warm nuances of the coverings, adding a precious touch to the rooms dedicated to wellness. A furnishing element that, with its metallic glow, warms the environment and responds to the most contemporary tastes. A must for those who want an interior of authentic class.