CASABLANCA – MAR
Architect: Yachar Bouhaya Architecte
Typology: Residential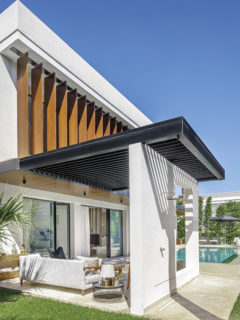 On the outside, since the main façade faces south, the designer has devised a concrete screen, equipped with motorized adjustable louvers, to protect from the sun in summer and maximize the amount of natural light during winter days. The Bali green stone infinity pool connects the two levels of the house and is visible from all angles.
The house is divided into two volumes: one on the street side, on the ground floor; and one in the background, with a basement. The first part is built on one floor and includes a double living room, dining room, wardrobe and kitchen; the second part hosts the spaces of domestic intimacy such as bedrooms, TV room, hammam and gym.
A sensory experience that is completed with the visual dimension: it is the eye that perceives that porosity that becomes softness to the touch. This is because the processing of the handle in concrete, which sees each single piece cast manually, leaves traces of its history in the finished product. A history of craftsmanship, that of Made in Italy Ritmonio, where irregularities give value to the product and attest to its uniqueness.
For the shower area, dedicated to refreshment and well-being, the Haptic Concrete collection by Ritmonio was chosen, which stands out for the stylistic combination of the handles of the taps and the concrete cover of the shower, both in concrete with the same finish. A very original use of the material: in the handle, in fact, the control element, the real point of contact with the user, enhances the tactile dimension of the concrete, which is perceived as soft, warm, almost sensual. A raw, structural material that turns out to be velvety and gentle, perfect for the outdoors of a residence of this type.